So, it's gray in Oslo. Again . This year, there's no escaping it, sadly. Oh, how I wish we could. Last year, we snatched up a cheap airfare deal on Norwegian and ran off to Malaga, Spain for a few days in February. Those memories are all that's sustaining me right now. Sunshine. Sea breezes. Churros dipped in chocolate. Sangria. Tapas. Flowers.
Our first day in Málaga was sunny and bright. We walked straight to the famous Cathedral of Málaga, which we could see from our hotel room window! The Renaissance era church is decorated with detailed stonework and brightly colored mosaics.
The cathedral is most notable for its lone bell tower, dubbed La Manquita , meaning The One-Armed Lady.
Some of the artwork inside the cathedral was a tad gruesome. But a good Catholic never minces with the interpretation of scripture.
We've traveled in European old towns enough that I've come to expect cobbled streets. Imagine my delight when this whole quarter was paved with flat, shiny, patterned marble.
Brightly colored flowers reminded us of the spring yet to come in our part of the world. Monstrous fuschia bougainvillea crawled over stone walls. Red blossoms the size of my fists bobbed in the bushes. But forever Malaga will be synonymous in my mind with orange... both the color and the flushed fruit dangling from the branches and perfuming the air.
This Roman theater, from the 1st century BC, was unearthed accidentally during refurbishments to the Alcazaba. Now you can walk out along reinforced portions and see it as the Romans did! Some of the most ancient history we've ever been in contact with.
This winter, because I'm growing a Hazelnut, I haven't been able to take advantage of the Nordic sauna tradition to chase the chills away. Last year, I was a sauna junkie, and it definitely helped keep the winter blues at bay. Better than that though were my two visits to the Al Andulus Hammam baths in Malaga . Jonathan and I spent an afternoon in this beautiful facility, moving from the hot tub to the ice bath to the sauna to the pool and back again. Between movements, we sipped fragrant tea and received massages. It was so beautiful, so tactile, so wakeful to my senses, that I wanted to weep when it was time to leave. Imagine my thrill when my husband surprised me with another morning visit to the baths only two days later! I floated on my back in a warm-water pool, gazing up at the bright cathedral ceiling in the main room, for nearly an hour. Weightless. Alone with my thoughts. Surrounded by the sounds of water. Nothing else has ever come close to that experience. Someday I'll make it back to that pool. I only wish it could be now.
We spent our days wandering the neighborhood, admiring the architecture and sampling the food from local markets.
Green pimiento with chorizo and salt. What's Spanish for heaven?
Our favorite restaurant turned out to be the legendary El Pimpi. We celebrated an early Valentine's Day with several flavorful courses. Chili oil. Fried cheese. Tangy cured meats. Crispy vegetables. Dark, heavy, aromatic wine.
Most of Malaga City's coast is a port for cruise ships, but we did find a beach, and it was cleaner and emptier than anything we'd read in the tour guides beforehand. It felt great to dip my toes in the Mediterranean again. I moved the tiny sea shells around in the palm of my hand so that they left a trail of wet sand across my skin.
It took a while to clean the sand from between my toes. I sat on a stone wall and brushed and brushed, but the sand was sticky. A man appeared by my elbow and offered me a handkerchief from his pocket, accompanied by a bashful smile. Spanish hospitality!
One afternoon, we toured the Picasso museum. Picasso was born and raised in Málaga, but left at 19 and never returned. My favorite part of the museum were actually quotations pulled from the artist's writings.
"When I paint, my object is to show what I have found and not what I am looking for. In art intentions are not sufficient and, as we say in Spanish, love must be proved by deeds and not by reasons. What one does is what counts and not what one had the intention of doing."
We doubled up on the art museums that day. The Museo Carmen Thyssen Málaga was excellent! It focuses on 19th-century Spanish painting, a bit of art history of which I had almost no understanding beforehand.
This last is called A Confraternity in Procession along Calle Génova by Alfred Dehodencq. (Catholics know scary.)
La Manquita by night.
On the last day--the sunniest, warmest day--we toured the the Alcazaba, a palace and fortress built by the Hammudid dynasty. These keyhole/horshoe doorways are emblematic of Moorish (Islamic/North African) architecture. The outer citadel is filled with colorful flowers and orange trees. So fragrant! And all along the way, the sound of running water.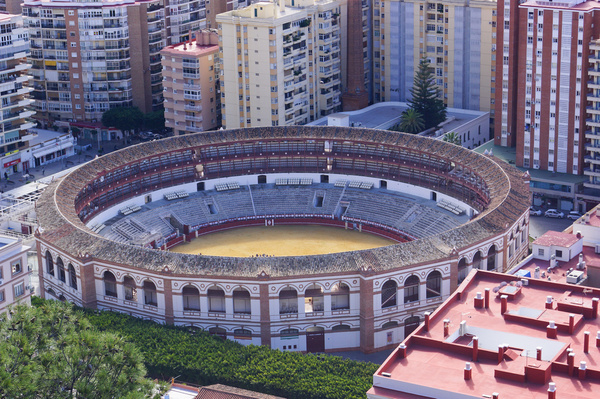 There is so much more to Spain, I know, and I can't wait to visit the rest of the country. For now, though, I'll hang on tight to these bright, sensory memories of a little coastal city called Malaga. Where we climbed a steep, switch-backed path to a castle on the hill and could look down into La Malagueta bull ring. Where sweet, spongey, fried churros soaked in melted chocolate dissolved slowly on my tongue. Where we scribbled postcards at sun-baked tables and clinked glasses of sangria, swimming with fresh fruit.
Adios, Málaga! See you again someday!