On Tuesday night, the Oslo Writers' League launched its second annual anthology at Oslo's Litteraturhuset. I'm proud to announce that the event--which included a panel discussion, readings, and an art auction--raised almost 10,000 NOK for Utdanningshjelpen ; this will provide more than three full years of education to scholarship recipients. All in all, a fun, successful evening!
Tammy Dobson Photography came away with some excellent photos...
Crammed as many OWLs on stage as possible. We're a colorful bunch!
You can pick up a copy of All the Ways Home on Amazon in the U.S. , or the U.K. , as well as The Book Depository . All profits go to Utdanningshjelpen. Don't forget to leave a comment and let me know how much you enjoyed the book!
Author, editor, and publisher, Zoë Harris , kicked us off. She's been the driving force behind both the group and the anthology projects for the last two years. We're lucky to have her!
I loved being part of the panel discussion. (That's me in bright yellow, in case you were wondering.) Our very international panel included a Brit, an Aussi, an American, a Canadian, and a Norwegian. We talked about the writing life, the expat life, and everything in between. Our audience was gracious and curious. I hope we inspired some people to write!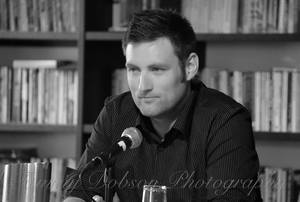 Clockwise from Top Left: Greta Solomon , our moderator; me; Espen Stenersrød; and Bree Switzer.
After the panel and readings, artist Evelinn Enoksen auctioned off the original works of art that appeared in our first anthology, North of the Sun, South of the Moon: New Voices from Norway . Every piece was exquisite. I came away with the one pictured below, inspired by a nonfiction piece authored by my dear friend Anna Maria Moore.
Thank you to those who joined us on the night!