Moving to Europe, I expected some downsizing. The average private vehicle size, for instance, is far more compact here than in the U.S. When we see big trucks on the road, they are a novelty. We take notice and assume a wealthy American decided he couldn't transfer to the Norwegian branch of his oil company without his trusty Dodge. Cars here are just smaller. Ditto city apartments, meal portions, playgrounds, and storage spaces of all kinds.
This last is best demonstrated by the average size of refrigerators in apartments across Oslo.
On the left, you can see our kitchen the week I moved in, back in April 2011. The poor, little guy had been retrieved from the bowels of our building's basement by our landlord. Who knows how long he'd been decommissioned before that. To say we've crammed him full of food is something of an understatement. As a car-free couple, the grocery haul must be restricted to what we can fit into a backpack and reusable bags. Even then, if both of us went to the market, we were able to bring back enough food to make that tiny fridge bulge at its aging seams. There isn't enough room to hold all (or even most!) of the beer cans Jonathan's friends bring over on game nights, either.
Plastic drawers were cracked. The door bleated in protest each time we swung it open. The freezer wouldn't close all the way without effort. The temperature inside the fridge swung wildly from just cold enough to keep the milk good to so cold I couldn't pour soda past the iceberg that had formed within the bottle.

And then last week, as we sat in the living room minding our own business, Jonathan and I heard an enormous crack! One of the glass shelves had split right down the middle. And there was almost nothing on this shelf, so we knew it wasn't our fault. Little Fridgy had simply given up.
I would have felt sentimental about the whole thing had our landlord not acted so quickly to replace it. I worried about having enough time to say goodbye... and then the new hunk showed up. Gleaming. A foot taller, inches deeper. With baskets that could accommodate frozen pizzas. With shelves in the door that could hold soda bottles... get this... standing up!
I stripped Little Fridgy of his magnets and sent him on his way. Because magnets, in my world, are the way I show love to my kitchen appliance. And it was time to magnetize the new guy. Tenderly. One bit of memory at a time.
I'm a little freakish about magnets. We get one each time we go on vacation. I'll pick one up in a store because it makes me laugh or conjures a specific memory for me.
Sorry I can't go out with you. I have to stay home and knit. This was a gift from a girlfriend who knew I didn't knit. It's red, retro, and has some attitude. I can dig it. A little to the left is one of several Half Dome-related magnets, accompanied closely by our mantra: Go climb a rock. The photo magnet shows Jonathan and me completing our first 5K together in San Ramon in 2009. A great day! And the photo of the typewriter is a postcard I received recently from a writer friend of mine who somehow manages, from a full world away, to be involved in my life almost daily. I love it. And her. A sound reminder.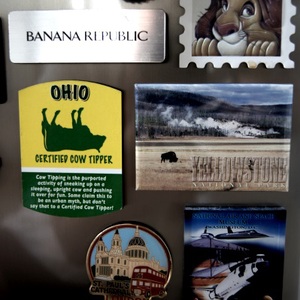 Left: Keep mum. She's not so dumb. Don't you just love the gimmicks governments used to keep sexism alive while warning their soldiers not to contract STDs or, in this case, leak sensitive information? This gem came from quick stop at the Churchill War Rooms in London last summer. Then there's Rosie, and of course the not-so-well-behaved women who make history. Feminism is ripe with magnet-worthy offerings.

Right: Once upon a time, I did work at Banana Republic. If you want to read some of my sweater-folding-related whining on that topic, journey back to when this blog was new. The big Mufasa stamp is a replica of one of the Disney stamps we used on our wedding invitations back in 2004. We visited Yellowstone in 2005, London in 2003, and Washington D.C. in 2012. The Ohio cow-tipping thing is hilarious, but I think Jonathan bought that for himself one a trip back to visit his friend, Ben, a few years ago.
Left: May the rains fall softly on your fields. Sadly, this Irish proverb didn't come from our trip to Dublin, Ireland in 2009. Rather, I think I got it from a Borders books (which makes it a different kind of keepsake, now that Borders is obsolete, right?). There's also the train to Flåm, Norway, which we took with visitors last summer, and a palace from the kingdom of Monaco, which we toured in 2009. The little map shows California Highway 49, straight through Gold Country. And finally, a photo of me holding Disney... the day we brought him home, just a couple of kittens in 2004.

Right: Old Faithful Inn is one of my favorite places to stay in Yellowstone, full of childhood memories, and I took Jonathan back there with me in 2007. And we picked up these two Saturday Evening Post covers which sum-up little Audrey last summer at the Norman Rockwell Museum.
There are lots more than these, too. Where I got this penchant for covering my refrigerator with magnets, I'll never know. My folks were all about the non-magnetic refrigerators. And I'm well aware that magnets are kitschy, cheesy, juvenile, whatever. I dig them. They allow me to have a giant scrapbook in our kitchen. For a scrapbooker, it doesn't get much better than that.
Between our new refrigerator (which stands taller than me!) and the fridge my friend got recently (which includes a water spigot and an ice dispenser, oh, what luxury!), I think Norway is growing up.