Never kiss your sweetheart on a drawbridge. If the two sides can pull apart, so can the two of you. On the other hand, sharing a kiss on a solid cast bridge will give you an extra dose of luck and longevity.
The Potseluev Bridge in St. Petersburg spans the Moyka River. Every bar on the bridge is covered with shiny padlocks. Like diamonds or fish scales, they catch the light when the sun pushes between the clouds. Inscribed on the locks are the names of lovebirds, the dates of their unions. Declarations of everlasting love in a variety of languages.
St. Petersburg's Kissing Bridge is steeped in tradition and superstition. Originally built in the early part of the 18th century, the wooden structure was replaced with an iron one in 1768 and named after a local merchant and tavern owner. Potseluev means "kissing". And so the legends began.
Standing on the bridge last month, we enjoyed the view of St. Isaac's Cathedral to the east. Newlyweds come to the bridge on their wedding day to take photos with that spectacular backdrop.

Now, as a rule, we're not superstitious people, Jonathan and me. But I play by some of the rules. At our wedding, I had something old, something new, something borrowed, and something blue. Occasionally, I knock on wood. When I'm driving and a glide through a yellow light, I reach up and tap the car ceiling with my fingertips. Why? Who knows.
When I remove my wedding rings for some reason, say to go rock climbing or to handle raw meat, I put them aside. Later, I bring them to Jonathan and drop them into his palm. They clink. He takes my left hand and says, Will you marry me? Yes. On slides the diamond solitaire. On slides the wedding band. He says, I do . I do, too. We kiss. It's silly to do this every time. But it could also be the thing that reminds us of our vows on mundane days. Days when we're just rock climbing or handling raw meat.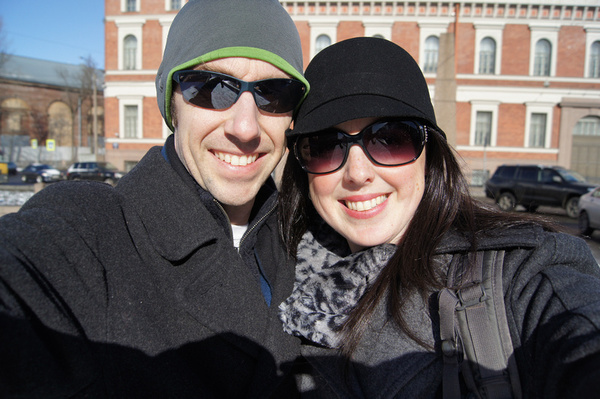 Turning away from the view of St. Isaacs, we saw something else entirely on the other side of the bridge. A car had crashed through the iron and stone fence along the river and crumpled on impact with the frozen Moyka. The accident had happened many hours before; only the battered shell of the car remained. Empty and fire-blackened. Smashed glass sparkled atop the layer of snow.
Which reminds me, as long as we're talking about superstitions... I still pray. It's been years since I have believed God answers prayer. But I still talk to him. Can't help it.
Please God, reveal yourself in the lives of the survivors. Or, if there be not survivors, in the lives of those left behind.
A tow truck driver was finagling to hook his truck's chain beneath the carriage of the car. Jonathan kissed me.
Thank you, Lord, for this man and our love. Thank you for all the laughter and adventure, for keeping us safe. Give us another fifty, sixty years of this.

Please. Please. Please.
Related Posts:
My Birthday Wish: Ballet at the Mariinsky Theatre
I'll be blogging more about our colorful, exotic trip to St. Petersburg, Russia, of course. But if you can't wait... our full St. Petersburg gallery is posted here on Zenfolio.