With its wildflowers, abundant wildlife, and sparkling, emerald panoramas,
Mt. Diablo State Park
is an East Bay must-see for any visitor, but it's also a popular destination for climbers. Jonathan and I have climbed there multiple times over the years. The photo at left shows me atop the Lower Tier at Boy Scout Rocks, preparing to rappel down
Amazing Face
(5.10a). Over my right shoulder you can see a formation aptly named
Butt Rock
.
This seems like a good time to mention that, if you're going to be a climber, you'll need to develop both tough fingers and thick skin.
Butt Rock
,
Butt Crack
, and
Butt Hole
are fairly innocuous as route names go. There are many far more potentially "offensive" names out there. In 2010, the Swedish Climbing Federation chairman moved to ban all offensive route names in Sweden "after sport climber and historian Cordelia Hess found certain route names offensive at a crag in Gaseborg, Sweden. She told a Swedish newspaper, Dagens Nyheter, that the Nazi-themed names, such as
Swastika
,
Himmler
,
Hitler
and
Third Reich
, 'trivialize the suffering of Jews during the Holocaust.'" As Meghan Ward notes in response to this story on
the Alpinist blog
, "By tradition, deciding route names is an honor given to those who first ascend a route. Often these names are inside jokes between climbers. For many, to legislate the naming process would take away the fun and spontaneity that leads to these names in the first place." Fair warning: If you're easily offended, climbing outdoors may be fraught with more anxiety than necessary for you.
Today I'll focus on a single Butt Rock climb we completed with some friends in April 2009.
Objective: Butt Rock, Boy Scout Rocks
Route(s): Butt Crack (5.4), Butt Face Direct (5.7), Butt Face (5.8)
Style: Top Rope
Level: Easy/Beginner
Approach: Drive up and park. Short walk.
These routes are relatively short and are not bolted, so it's necessary for someone to scramble up the chimney on the South Face ( Butt Crack ) in order to build your anchor at the top. This time around, I felt daring (and forgot that I'm claustrophobic), so I followed Jonathan up. I managed to get my feet stuck multiple times and dropped an orange sling (it's probably still there). Moral of the story: let the most experienced climber in your group do the initial tricky parts.
LEFT: I sure am excited about this here chimney! RIGHT: Cindy, waiting at the base, lends perspective in pink.
We made it to the top and Jonathan built our anchor. The formations at Boy Scout Rocks are sandstone. It feels like finely-grained sandpaper and it's very soft. Guide books caution climbers to build their anchors with long slings, dropping the core of the anchor down over the edge to avoid rope friction on the sandstone. Such friction can grind deep grooves into the face of the rocks. We were careful, but every summit at Boy Scout Rocks includes scars, evidence of climbers who didn't care as much as we did. Once we built the anchor, Jonathan and I lowered off the South Face to where our friends were waiting.
FAR ABOVE: Jonathan builds the anchor with long slings, careful not to cause unnecessary wear to the rock.
ABOVE: Geronimo! I begin my rappel on the South Face.
In California, it's possible to climb most places year-round. Sandstone, however, does absorb moisture. If there's been rain recently, wait two or three days before attempting these climbs. The park gates open at 8am and close at sunset. Thankfully, the landscape and vegetation of Mt. Diablo allow for all-day climbing. Many belay stations are sheltered by the broad gray-green canopy of wild oak. Beware of poison oak. Remember: Leaflets of three, let it be!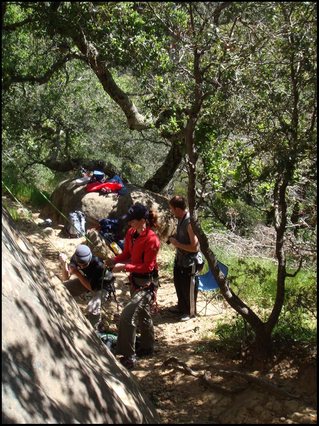 LEFT: The belay station is flat and shaded. Perfect for a picnic and a game of Travel Scrabble. RIGHT: Brad leans into the slab and trusts the sticky soles of his climbing shoes.
Again, the routes we climbed that day were all straightforward slab climbs. As you can see, the grade isn't too bad. Halfway up the face, you'll climb above the treetops; if it's a sunny day, this part of the climb can get hot!
If you're a Bay Area climber, it's worth investing in SuperTopo's
Bay Area Top Ropes
, a full-color guide with excellent maps, route descriptions, and other helpful info.