For the last two months, I have been swimming in the Oslo startup scene. It's an exciting place to be. Norway is poised to make the most of its status as one of the fastest growing hubs for innovation in Europe. There's wealth, education, competency and infrastructure aplenty here. Since 2011, a vibrant network of coworking spaces, incubators, accelerators and angel investors has developed in this fertile environment. And here's the book on all of it: Startup Guide Oslo .

I was honored when Startup Everywhere approached me about writing the sixth in their growing library of entrepreneurial handbooks. Startup Guide Oslo offers a comprehensive overview of the city for its current and would-be entrepreneurs. Everyone in the guide was selected via a nomination and voting process. In August and September, I raced all over the city interviewing the major players.
I had the chance to visit ten very different coworking spaces in town: 657 Oslo, Avd. Frysja, Bitraf, Fellesverkstedet, Gründergarasjen, The Factory, MESH, Oslo International Hub, Sentralen and SoCentral. You'll find insights (including practical stats like square meters, number of desks/offices, pricing) and beautiful interior photos in the book.
My favorite part of the guide is the chapter of in-depth interviews with successful (and sometimes serial) entrepreneurs, including:
Johan Brand of Kahoot!
Kahoot! is a free game-based learning platform. It works for any subject, in any language, on any device. In a group setting, players read questions on a shared screen - encouraging them to look up - then answer on their own devices. It reaches 33 million monthly active users in 180 countries. Johan's passion for using fun for good is infectious and it comes through in our chat.
Karl Munthe-Kaas of Kolonial.no
Kolonial.no is Norway's largest online grocer. They offer a wide range of groceries and dinners delivered either to customers' homes or pick-up points. Their goal is to make grocery shopping efficient and easy, benefiting the lives of their consumers. Kolonial.no is one of the fastest growing Nordic startups. I'm a happy customer, and I enjoyed learning about Karl's pragmatic approach to starting up.
Jon von Tetzchner of Vivaldi (formerly CEO of Opera Software)
Vivaldi is a free, open source browser. Designed with the needs of advanced web users in mind, it is almost completely customizable. Jon von Tetzchner wanted to pick up where the Opera browser left off, and has built a "company for the future" to achieve that goal. A friend of mine works at Vivaldi, and her experience echoes the idealism of Jon's philosophy. Speaking to Jon was a tech-nerd's dream. (I'm only a quasi-tech-nerd, myself, but I was still psyched about it.)
Jeanette Dyhre Kvisvik of VILLOID
VILLOID is a social style app co-founded by fashion icon Alexa Chung. In the vein of Instagram or Pinterest, VILLOID lets users share their style by creating and following mood boards. It then empowers users to buy what they see and love directly via a buy button. Jeanette's path to this success--and humility and poise in the face of it--made me eager to try VILLOID. Especially when she hinted at what's to come.
Anita Schjøll Brede of Iris AI
Iris AI is an artificial intelligence platform designed to read and analyze the abstracts of millions of research papers. The goal is to find crucial connections between existing research that will help to solve the biggest issues of our time, from cancer to global climate change. More than anyone else, meeting Anita reminded me how exciting it can be to meet someone who's brain works differently from your own. She was warm and forthcoming about her time at Singularity University, a place I'd never heard of, but am now extremely grateful to know exists.
Isabelle Ringnes of TENK (Tech Network for Women in Norway)
TENK is a non-profit organization aimed at encouraging more women to pursue education and careers in the tech industry. Founded by two "technology-loving non-technologists," TENK supports and promotes women in tech in Norway through presentations, campaigns and events like Girl Tech Fest at Oslo Innovation Week. Isabelle and I share a passion for getting more women involved in tech on all sides, but her efforts are far more professional, organized and inspiring.
I also authored the City Essentials and the section on Programs--accelerators and incubators--in town. If you're thinking about starting a business in Oslo, please order a copy from the Startup Everywhere website . I hope you'll find it a useful resource!

And this November, look up for Startup Everywhere's exciting new app: Startup Guide Maps. Meeting a critical need for European entrepreneurs, the app will make finding the essential resources for your idea and company easy wherever you land. It will feature ''all the co-working spaces, incubators, accelerators and cafés with wifi" in the cities they've profiled so far, and more than a dozen new cities are in the queue for 2017!
Here are a few photos from last week's book launch party at MESH Norway for Oslo Innovation Week 2016: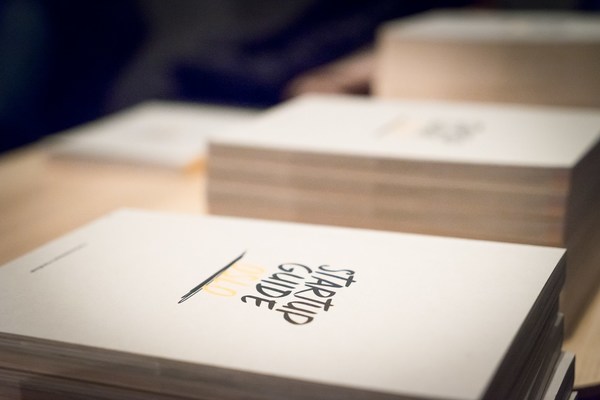 Clockwise: Me, Thomas Nymark Horsted (Startup Everywhere Co-Founder), Sissel Hansen (Startup Everywhere Founder), Kriszti Toth (MESH Norway Co-Founder)