When Jonathan and I decided to move to Norway almost three years ago, we knew only a few things for certain:
We'd be able to travel more.
We'd need warmer clothes.
And we'd likely never receive any visitors.

This last, we understood, because, unlike France or Italy or Switzerland, Norway just isn't one of those legendary, popular European destinations. Few non-Europeans can name any Scandinavian city other than the three big capitals. Even fewer could locate the capitals on a map without help. Plus, unlike Denmark, which shares a border with Germany, Sweden and Norway are just plain UP THERE. Oslo and Stockholm share roughly the same latitude as Anchorage, Alaska and St. Petersburg, Russia. So, we resigned ourselves to our loneliness, determined to make new friends and buy plane tickets back to California as often as necessary to remain recognizable to our old crowd.
And then the unthinkable happened. People came.
2012
Left: Lears & Camps hiking in Flåm, Norway; Right: Camps & Schwerdtfegers playing Kubb at Sognsvann, outside of Oslo.
First to arrive were Ben and Shana Lear, hometown friends who currently live in Pennsylvania. With them we took the famous Oslo-Bergen railway out to the idyllic fjord-town of Flåm for a couple days of hiking and relaxing. Then, less than 24 hours after the Lears left, the Santa Cruz Schwerdtfegers, Jeff and Amy, pulled into Oslo. We stayed closer to home with those two, grilling out on the terrace and climbing up the walls of local buildings after dark . For two straight weeks, Jonathan and I felt like we were back in Livermore, goofing around with our dearest pals. Once they'd gone, I wondered if anyone else would make the epic trek to Norway again.
Turns out, I needn't have worried.
2013
Left: Audrey & Madolyn at the Syttende Mai parade in Oslo; Right: Camps & Lackeys atop Oslo Operahuset .
May: First up this year was Madolyn, a family friend. She'd been studying in Copenhagen for the spring semester, and I'd been enjoying her Facebook postings on travels across Europe since then. When she emailed to say she wanted to see Oslo and crash at Camp Camp for a weekend, I was thrilled! Coincidentally, her visit coincided with 17 May, Norway's big National Day , so she got quite the introduction to Norwegian culture: flags, bunader, revelry, and all. June: Less than a month later, the Lackeys arrived! For several sunny days, we toured the city together , drinking good (expensive!) beer and catching up. They'd come to us by way of Amsterdam and Copenhagen, and we hoped the expat bug would bite them hard enough to get them job hunting somewhere in Europe. After all, we can confirm that this whole expat thing is terribly, terribly fun!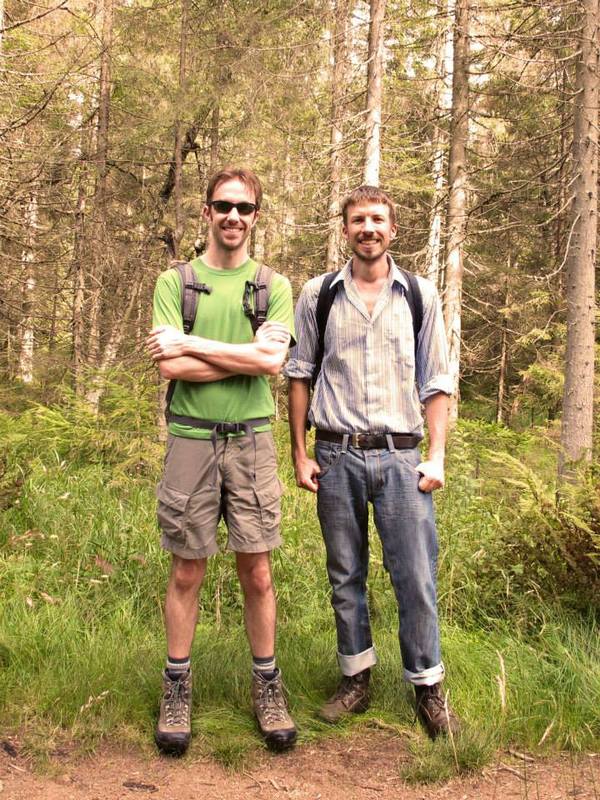 Left: Matthijs & Jet (our Dutch doppelgängers); Right: Brothers hiking in Oslomarka
July: Our only solo summer vacation this year was a 10-day trip to the Lofoten Islands. On that trip, we spent a couple of nights at a backcountry hytte (hut) where we ran into a couple from The Netherlands with whom we got along famously. So well, in fact, that we exchanged information and promised to keep in touch. I was surprised and completely jazzed when they reached out later that month to say they'd be ending their vacation in Oslo. Poor Jonathan had to leave the country on business, but I got guests! And we're already looking forward to taking Jet and Matt up on an invitation to visit them in The Netherlands next spring. August: Jonathan came home from Vegas just in time to welcome his brother to town. Josh had been studying in Cambridge, England for a month, and took the opportunity to fly up and hang with us for a long weekend. It turned out to be one of the hottest weekends all summer, but he braved the heat and hiked in the hills outside Oslo with Jonathan, and took lots of amazing photos of our fair city, too.
Mom & me dining on Norwegian delicacies at Frognerseteren; Mom & Dad Camp with us at Kjosfossen on our way from to Flåm on Flåmsbana.
September: We rounded out our summer with back-to-back visits from parents! First, I flew down to Paris to meet Mom and explore the City of Light for a week, then I brought her home to Oslo with me. Mom and I are very close. Not only do we look alike (seriously, when we're together, it comes up every two seconds), sound alike, and act alike, but we worked together for six years. It's safe to say we enjoy doing things side by side. Sharing my new home with Mom was a real joy. She got to see where I work and how I move through the city (with me, she used public transportation more in two weeks than she ever has in her life). She met some of my friends and played with my cats and ate breakfast at our neighborhood bakeries. And while Paris was all about seeing the sights, our time together in Oslo was more personal and low key. She taught me how to cook a couple of new dishes; we sewed covers for my couch pillows; and we tried out the croissant recipe we'd learned at a baking class in Paris. A very domestic week. I hated to see her leave.
October: A week later, Jonathan's folks arrived via Stockholm. We were the middle week stop in a three-week journey to all the Scandinavian capitals. Again the focus was more on quality family time than constant tourism, which allowed Lynn and Debbie to hear Jonathan give a short talk at a tech meet-up in town, and later to visit his office and meet his co-workers. But we also ran out to Flåm again for a weekend of trains and tramping the roads around the fjord. At the end of their time with us, we joined them on the boat ride to Copenhagen and spent a Danish day with them, too, before boarding the ship again and returning to Oslo alone.
This is why the blog has been fairly quiet for the last six months.
It's also why I'm feeling a little more isolated than usual these days.
The same way that light requires darkness, living far away is only possible if there is someplace else in the world that you think of as home, a set of coordinates to which you remain connected, an absolute. And when people you have known only in that place come to visit you in the new far away city, something happens. They bear witness to the life you have been living. And their presence gives you a little break--a chance to be the person you were first, before this moving-a-world-away thing changed you--and you breathe a little easier for the days that they are with you. Because they see you the way you see yourself. Everyone else you have met in the new city far away, every new friend you've made, is still getting to know you. But the family and friends from your hometown, from your roots, recognize you as a whole person. That recognition is priceless.
And it leaves with them when they go.
Thank you, visitors! We love you and miss you.