"The whole object of travel is not to set foot on foreign land; it is at last to set foot on one's own country as a foreign land." - G. K. Chesterton

Next week we're headed to Copenhagen, Denmark, just for the day. It'll be our third time in the Danish capital, thanks to a cheaper-than-cheap Groupon deal from DFDS. And it got me thinking about all the places Jonathan and I have visited together in the last 10 years. Then, I got this idea from fellow travel blogger, Mrs. O Around the World . Allow me to rank 'em!
#10 Blue Mountains, Australia
Australia had long been on our list, and because it's such a long trip, we wanted to give it two full weeks on our visit in 2010. The first week we spent in Sydney, but the second week was better. We took the train east to Leura and Blue Mountains National Park. Eucalyptus oils in the trees react with the air and form the mist that hangs, ethereal and blue, over the dramatic canyons and mountain ridges. We hiked beside waterfalls, marveled at strutting red macaws, and rode the Zig Zag Railway twice!
#9 Copenhagen, Denmark
Denmark wasn't even on our list until a friend offered us free use of his holiday home on the country's west coast. It was a twist of fate. The country I hadn't considered beat every expectation on our first trip there in 2007. Rolling green hills, dark forests, friendly people. In Copenhagen, we toured the Carlsberg Brewery and shopped the Strøget. Last year we made it across the Skagerrak strait by ferry to see the city again, this time with a visit to Tivoli, all decorated for Christmas.
#8 Paris, France
How is this not higher on my list, you ask? Well, there are just so many amazing places in the world! Paris was as spectacular as I'd imagined when we visited in 2009. As romantic, as exotic, as indefinable. I loved the museums, of course, but it is to the city's credit that my fondest memories of the trip are in the experiences on the ground. A picnic on the sun-warmed concrete bank of the Seine, baguette and grapes and cheese and wine. Sitting in the Louvre's outdoor courtyard listening to street musicians duel, flutists and a cellist and mariachi band.
#7 Yellowstone National Park, Wyoming, USA
The scent of my childhood summer memories is sulfur, and I don't mean that in a bad way. I grew up believing it was easy to see herds of big game grazing on the prairie, that it was common to eat lunch on a boardwalk next to an erupting geyser. I could tell the difference between a Bald Eagle and an Osprey, between a chipmunk and a Golden-mantled Ground Squirrel. When I grew up, I couldn't wait to share Yellowstone with Jonathan, and I will never forget how joyful he was during our week there in 2007.
#6 Jungfrau, Switzerland
When I sit in judgment of a place I've been, it boils down to three things: Was it beautiful? Were the people friendly? Did I hate to leave? In Switzerland's Jungfrau Region, my answers were Yes, Yes, YES! If I had a complaint, it would be that the mountains were too overpowering; I couldn't look straight at them without bowing my head. When I lost a glove, someone found it and placed it where I'd find it on my walk home. The towns of Murren and Gimmelwald felt like the backdrops to my own personal storybook. Someday, I'd like to spend a couple of weeks in those mountains, just writing writing writing.
#5 Valle d'Aosta, Italy
Our hotel was located just south of Breuil-Cervinia, the Italian side of the Matterhorn. I blogged the experience of visiting the fickle mountain , but the rest of the region was also spectacular. Turquoise water in the lakes. Tiny hamlets in the mountains inaccessible by car. We began one hike by taking a chairlift into the mountains. The food was too salty for me, but the people were so friendly, I almost felt like I'd found my extended family.
#4 Oslo, Norway
That we live in my fourth favorite place on earth isn't an accident, but I'd be lying if I said we moved here because I liked it so much. Jonathan and I relocated from California's Bay Area because we were ready for any change at all. Oslo was just the place that offered Jonathan the best job. When we visited the city back in 2010, we had no idea we'd one day call it home. Today, I know the city in a visceral way, the kind of knowing that only comes with survival and a longer learning curve. And I love it.
#3 Kalymnos, Greece
The newest spot on the list, Kalymnos is an island in the southern Grecian archipelago. We spent a week on its golden beaches last month, eating Feta-stuffed everything, and drinking our weight in ice water to beat the heat. One day we explored ancient Christian ruins by Jeep. The next, we rock climbed in a cave high up on the cliffs above the city. I've never been so relaxed. We'll definitely be going back!
#2 Yosemite National Park, California, USA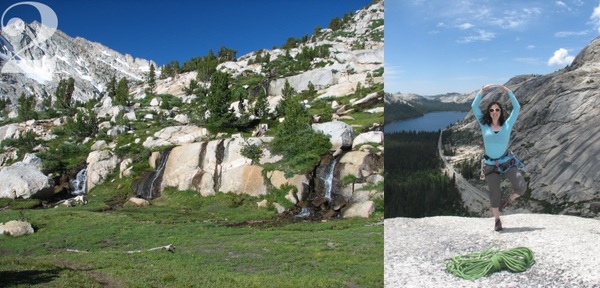 When we lived in Livermore (which, for nostalgic reasons, really ought to have been on this list), Yosemite was our home away from home. The majesty of the ancient granite domes kept us coming back, and we even had the audacity to climb them. We've camped, both in the valley and in Tuolumne, so many times I've lost count. We've seen bears, deer, coyote, and Western Tanagers. It's a special spot for anyone, but for us, it was a plug-in, a place to return to our best, most honest state of being.
#1 Zurich, Switzerland
Dozens of bright white swans paddle in lazy circles in the near-black water of the River Limmat. We fed them bread and turned in our own set of circles on the footpath. Zurich is a clean city. Its skyline is full of steeples; its air is filled with bells. Since our first visit in 2008, Jonathan and I have known it to be our favorite place. Someday, we'd like to live there. For now, it's the city I can't wait to see again.