It ranks as one of my favorite places in the world. Palo Alto's

Stanford Theater

has just unveiled its first program for 2008, and it's 10 weeks of

Hitchcock

! One of the most recognized directors in the history of film making, Hitchcock set the gold standard for the industry, mastering the thriller/horror genre. Each of his films comes with his patented cameo appearance and the occasional

MacGuffin

. Now, since everyone loves a little Hitch, and in keeping with my perpetual plugging of the golden age of Hollywood, I thought I'd throw a few more recommendations on the table: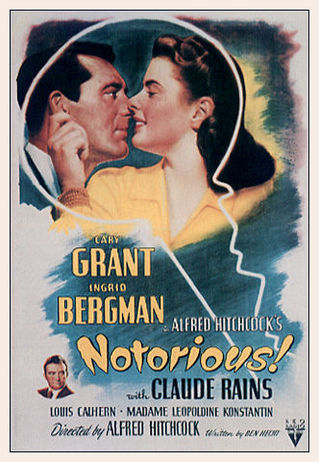 Notorious


Ingrid Bergman sizzles as a woman conflicted. After she is approached by her government and asked to spy on her Nazi friends for the good of mankind, Bergman must weigh her loyalty to her loved ones against her patriotism and, ultimately, her interest in her handler, the dark and dashing Cary Grant. Claude Rains (probably best known as Police Commissioner Louis in Casablanca) is the objective and he commands the audience in each of his scenes. (Tom's Cruise's Mission Impossible: 2 includes scenes which are very similar to those in Notorious, especially the scene at the racetrack.)




Cameo: At the party in Claude Rains' mansion, drinking chapagne.




MacGuffin: The Uranium which is being gathered to be transported.
The Lady Vanishes - In this early Brit Hitchcock, Dame May Whitty captivates as Miss Froy, the elderly governess in the cross hairs of the Nazi government. Beautiful Margaret Lockwood is the self-possessed young woman who jumps into action when her new friend (Whitty) disappears on a train trip to England, and Michael Redgrave is the plucky-but-gallant young man who comes to her aid. Excellent casting of British character actors Naunton Wayne and Basil Radford add the comedy. NOTE: The line referenced in When Harry Met Sally , "You're the most contemptible person I've ever met..." occurs early on. (Though this fact is denied by the filmmakers, Jodie Foster's recent work Flightplan is startlingly similar... but not so good.)

Cameo: In Victoria Station, wearing a black trench and smoking a cigarette.
MacGuffin: Miss Froy's "vital information" for the British government.


Rebecca - Starring a haughty, damaged Sir Lawrence Olivier as Max DeWinter, a widower avoiding his past, the film tracks his unexpected romance with a soft-spoken, fluttery Joan Fontaine. Conspicuously, the film's title character never makes an appearance, and it's no coincidence that Fontaine's character's name is never spoken. A masterful manipulation of the novel by Daphne Du Maurier, the audience leaves most haunted by the cold Mrs. Danvers, brilliantly portrayed by Judith Anderson. Look for another snide, sneaky performance by the ever-talented George Sanders.

Academy Award Winner 1940: Best Picture, Best Cinematography

Academy Award Nominee 1940: Best Director (Hitchcock), Best Actor (Olivier), Best Actress (Fontaine), Best Supporting Actress (Anderson), Best Screenplay

Cameo: Outside the phone box when Jack (George Sanders) is making his call.

MacGuffin: Rebecca DeWinter, woman extraordinaire

Suspicion - Cary Grant is the ne'er-do-well playboy who seduces a shy, bookish heiress (Joan Fontaine - cousin of Gone With the Wind 's Olivia De Havilland), Lina "Monkeyface" Aysgarth - a woman completely at the mercy of her devilishly charming new husband. But as their marriage gets off to its rocky start, the chips of circumstance begin to fall, and Lina's suspicions drive her to the brink of madness. Dame May Whitty is underused; Nigel Bruce, best known as Doctor Watson to Basil Rathbone's Sherlock Holmes, is lovable as the befuddled, beliquored "Beaky". Look for the famous "glowing milk" scene, something which has been parodied many times.

Academy Award Nominee: Best Picture of 1941
Cameo: Mailing a letter in the village.

Strangers On A Train - This eerie story begins with a chance meeting between a wealthy playboy and a debonair tennis pro. What seems like an almost innocent conversation about crime turns ugly when Bruno, the athlete (a pretty-boy Farley Granger), realizes that his counterpart (super creepy Robert Walker) is offering to murder Bruno's adulterous wife in exchange for the murder of his own wealthy, domineering father. Hitchcock unravels the pact slowly, utilizing bizarre camera angles and an infamously intense scene on a carousel.

Cameo: Boarding the train with an instrument as Farley Granger deboards in his hometown.


Rope - Farley Granger is back, but this time he's the bad guy (one of two, and definitely the more submissive of the pair). Strangulation takes place before supper, and as the dinner party gathers, the battle of wits between the murderers and their guest and former professor (a prematurely gray Jimmy Stewart) begins. Shot on a single set and containing "the long shots" Hitchcock made famous, Rope is all about subtlety and anticipation. This isn't Stewart's best work, though the final monologue sets him far and away above the rest of the cast. Based on a true story involving college students Leopold and Loeb. (Sandra Bullock's 2002 film Murder By Numbers was also loosely based on the Leopold and Loeb case, though there is no match-up between the two films.)

Cameo: One of the men walking down the street in the opening sequence.

Rear Window - What if a Peeping Tom sees too much? Jimmy Stewart is brilliant as the action photographer relegated to a wheelchair after an accident. He is itching to be on the brink of disaster once again, and goes looking for it in the lives and living rooms of his apartment complex neighbors. Raymond Burr (best known as TV lawyer Perry Mason) is sufficiently evil, even from a distance, and Thelma Ritter is, as always, the diamond in the rough. But it is delicious Grace Kelly who steals the show. Watch it if only to see Grace sidle up to the camera looking very "come hither." (Recently remade as Distubia ... which is about as close to the blasphemy of Hitchcock's genius as possible.)

Academy Award Nominee: Best Director of 1954
Cameo: Winding the clock in the songwriter's apartment.

The Man Who Knew Too Much - Hitch goes political in this thriller which pits a typical American family (Jimmy Stewart and Doris Day are wonderful together) against an undercover agent and the assassination plot he is attempting to uncover. The tension is palpable when Stewart and Day must face every parent's worst fear. Hitchcock's signature unexpected comedic finesse is at its best when the lanky Stewart must eat in a Moroccan restaurant. Think floor pillows. Occasionally too much singing, otherwise a treasure. Interestingly, it is a remake of Hitchcock's own 1934 film by the same name.

Academy Award Winner - Best Song of 1956 (Que Sera, Sera)
Cameo: With his back to the camera, watching acrobats in the Marakesh marketplace.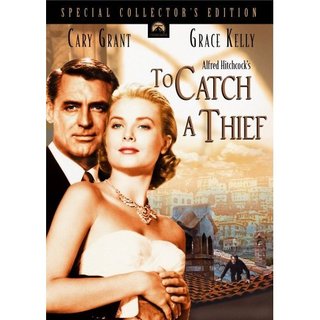 To Catch A Thief - Go for the costumes, diamonds and Grace Kelly. Cary Grant is John Robie, a recovering jewel thief who paid his debt to society during the war. But someone isn't willing to let him forget this past, and every wealthy woman on the French Riviera is losing sleep, afraid she'll be paid a visit by The Cat! Seriously, Grace Kelly, as the goddess with a rich mother, along with her sense of style, is more than enough to sell this movie. Ignore the bad accents and the bizarre backstory.

Cameo: Sitting next to an escaping Cary Grant on the crowded public bus.

The Wrong Man - Henry Fonda (father of Jane and one time roommate of Jimmy Stewart) stars as Manny, a hardworking musician who is mistaken for a robber and is subsequently convicted and punished for a crime he did not commit. Based on a true story, even the names and places are the same, The Wrong Man is fairly political, but in true Hitchcock style, it is the psychological punishment inflicted on the wrong man's wife which leaves the biggest impression on moviegoers. Remember, an honest man has nothing to fear.

Cameo: Swathed in darkness in the opening sequence, narrating.

North by Northwest - Everyone has seen the crop-duster scene or a parody of it. Cary Grant is Roger Thornhill, an advertising executive who is mistaken for a government agent. When the spies set out to kill him off, Thornhill is determined to prove his sanity, his innocence and, if possible, expose the spy ring. The oddly lovely Eva Maria Saint contributes her throaty appeal as Eve Kendall, and innuendos run high in the train drawing room where the two must (gasp) stay the night. James Mason is sinister as the spy leader who loves Eve Kendall. Mount Rushmore, heavy drums, microfilm and the inevitable knife-in-the-back reveal make this worth a watch.

Cameo: Just missing the bus.

Quick note: Alfred Hitchcock's 1928 silent film Easy Virtue is currently being remade with Jessica Biel in the starring role. I've never seen the original, though I think I'll attempt to track it down before seeing the new one.